Politura Microcement – Medium and Fine
Politura Microcement is quick, easy and incredibly hard wearing – verified in independent testing.
Described as the 'Bugatti Veyron' of microcements due to its versatility, ease of use and toughness.
Need some help with your project?
Product Features
The NEW quartz-based technology behind Politura microcement is the most advanced in the market place in terms of durability and ease of application. Basically it's an architects and contractors dream come true as it's extremely hard wearing, easy to apply and incredibly versatile.
Politura offers a consistent, high-quality product that can be applied over and over again, achieving the same results. What's more, Politura is a 2–3 day system making it quicker to apply than many other microcements.
Our microcement is not manufactured with Calcium Carbonate (chalk) with a Mohs scale reading of 3 or even silica sand with a Mohs hardness of 5 – 6. Politura is manufactured from Quartz sand with a Mohs hardness of 7. Because of its exceptional hardness Politura can be polished without the use of waxes to give a true polished concrete look removing all the associated maintenance issues and bacteria.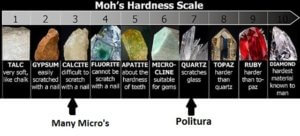 Mohs' scale məʊz/ noun a scale of hardness used in classifying minerals. It runs from 1 to 10 using a series of reference minerals, and position on the scale depends on ability to scratch minerals rated lower.
Versatility
By combining the three grades of Politura – Medium, Fine and Smooth the applicator has a choice of five different finishes, Textured, Salt and Pepper, Smooth Polished, Smooth Linen and Cloudy (with subtle movement similar to Venetian plaster). In the hands of an experienced craftsman it's possible to achieve a multitude of finishes and designs. For more information on finishes please see the technical data sheet.
With our "Just Add Water" technology the polymers are already mixed into the powder so you just add water to the tub.
With its modern seamless tactile feel Politura creates the simple elegant look that will satisfy even the most demanding of clients. Available in a wide range of neutral shades Politura is just as at home in an elegant loft as a country farmhouse. As with our previous microcements Politura is supplied in white and can be coloured with our NEW pigments to create a range of standard and bespoke colours, see Colour Chart.
Once sealed with one of our wide range of products, Politura will continue to give the client an elegant seamless easily maintained floor for many years to come.
Seal with DIA SOL our New carbon based sealer which gives a HUGE IMPROVEMENT in wear resistance. DIA SOL is also heat resistant and is great for worktops.
Seal with BI SOL our impregnating and densifying sealer with lithium silicate technology.
Seal with APU 48 Matt Polyurethane or MICRO SOL PLUS for an ultra smooth, high chemical and UV resistance.